From
Honolulu Star Bulletin
(5 July 2007)
Curious creature caught off Keahole Point

The animal, dubbed an "octosquid," is found off the Big Isle

It's a squid, it's an octopus, it's ... a mystery from the deep.

What appears to be a half-squid, half-octopus specimen found off Keahole Point on the Big Island remains unidentified today and could possibly be a new species, said local biologists.

The specimen was found caught in a filter in one of Natural Energy Laboratory of Hawaii Authority's deep-sea water pipelines last week. The pipeline, which runs 3,000 feet deep, sucks up cold, deep-sea water for the tenants of the natural energy lab.

"When we first saw it, I was really delighted because it was new and alive," said Jan War, operations manager at NELHA. "I've never seen anything like that."

The natural energy lab is a state agency that operates Hawaii Ocean Science and Technology Park in Kailua-Kona, adjacent to one of the steepest offshore slopes in the Hawaiian Islands.

According to Richard Young, an oceanography professor at the University of Hawaii at Manoa, the specimen tentatively belongs to the genus Mastigoteuthis, but the species is undetermined.

War, who termed the specimen "octosquid" for the way it looked, said it was about a foot long, with white suction cups, eight tentacles and an octopus head with a squidlike mantle.

The octosquid was pulled to the surface, along with three rattail fish and half a dozen satellite jellyfish, and stayed alive for three days. According to War, the lab usually checks its filters once a month, but this time, it put a plankton net in one of the filters and checked it two weeks later.

The pitch-black conditions at 3,000 feet below sea level are unfamiliar to most but riveting to scientists who have had the opportunity to submerge. The sea floor is full of loose sediment, big boulders and rocks, and a lot of mucuslike things floating in the water, which are usually specimens that died at the surface and drifted to the bottom.

"It's quite fascinating," War said. "When you get below 700 feet, it's a totally different world. Lots of fish have heads like a fish and a body like an eel. There are fish floating in a vertical position, with the head up, and don't move unless they're disturbed."

Christopher Kelley, program biologist for the Hawaii Undersea Research Laboratory, went to the natural energy lab Tuesday to pick up the preserved octosquid, rattail fish and jellyfish, which had been stored in a freezer, and brought them back to UH-Manoa's oceanography department.

"It's a beautiful squid. It's a gorgeous ruby red color," Kelley said. "We really enjoy these little mysteries that come up."

Also during Kelley's visit to NELHA yesterday, he and War talked about a more formal sampling program to search for other deep-sea critters. War said their goal is to sample the intake screen more often and capture animals alive and study them in captivity.

"This opens up a whole new area of research that UH can be involved with," War said.

In October, NELHA will be checking its deep-sea pipelines, something that usually happens every eight to 10 years, because it is worried that something might have happened to them during the earthquakes in October.

"If it's a new species, (NELHA) would like to name it," War said. "But that is sort of the honor of whoever classifies it."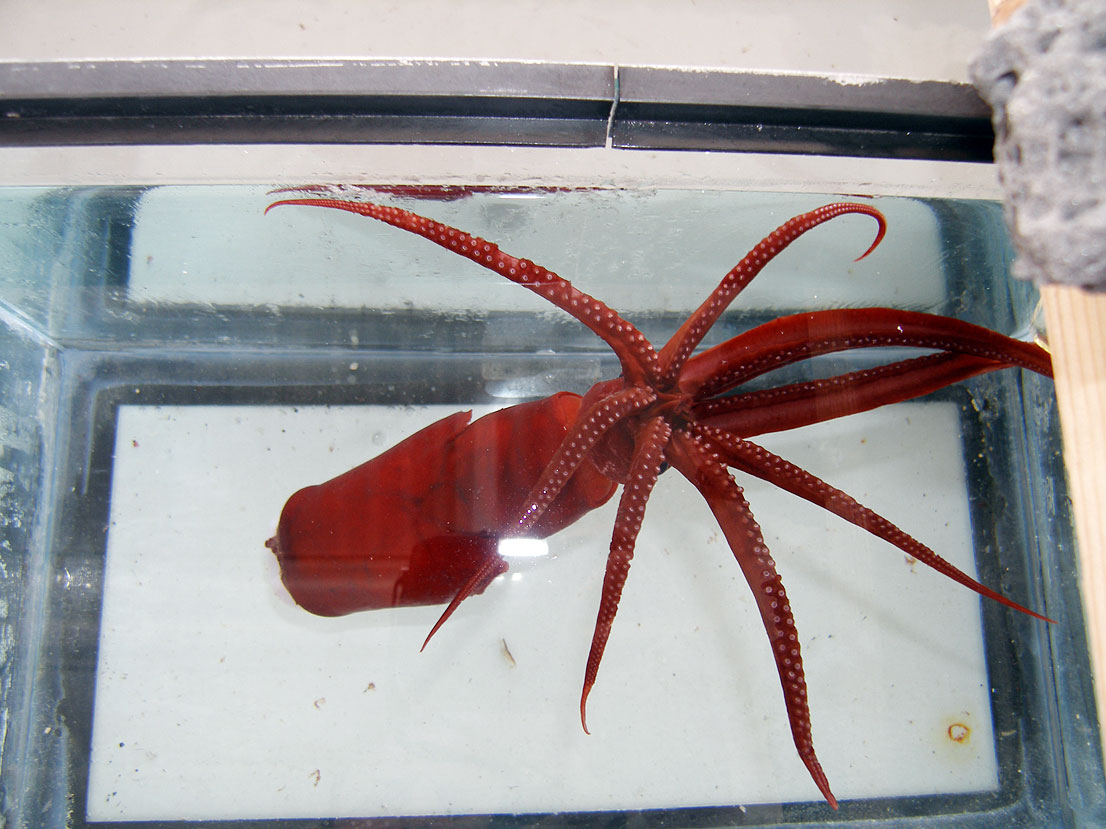 Hmmm... if it is a cross between squid and octopus, then it would be perfect for quick cooking.
************************
I didn't do much today. Last night and today, I watched about half of the first series of
Rome
on DVD. Excellent show.
It's raining and cold tonight. I had planned to go to the club and watch the game on their big screen (my team is playing tonight but the game is not televised on free to air, and I do not have pay TV). Instead, I am staying at home and listening to a radio commentary. Tragic!
Scores and pics tomorrow.