ESPN
has given
Andrew Ogilvy
, an Australian playing American college basketball for
Vanderbilt University
a big write up.
Meh! We can be proud of an Australian who is successful in the US, but this was much more interesting
The truth is that Ogilvy's biggest adjustments have come off the court. He's still getting his hands around the differing American accents, especially the southern twang.

"I've gotten pretty good now," he said. "At first, I was looking really hard and would try not to be rude and ask them to repeat themselves."

Of course, everybody else loves hearing his Aussie accent.

In particular, he's frequently asked to repeat the words "banana" and "zebra". Ogilvy's pronunciations of "ba-NON-a" and "ZEB-ra" are always a hit at parties.

And, no, he hasn't taken a liking to country music and says he's still not used to what he calls the "cold snaps".

His roommate, freshman guard Keegan Bell, jokes that Ogilvy has a secret weapon to fight the cold weather.

"He's got this pair of boots," said Bell, shaking his head and wearing a sheepish smile. "I don't even know what they call them. They're these huge things, kind of like those boots the girls wear, but for guys. He lugs around in them, and they come up to just below his knees. They've got cotton inside them with what looks like suede material on the outside.

"I've never seen anything like them."
They haven't asked him to say "tomato" and "water" yet...

The boots he means must be something like these
Cotton and suede? No, they are made from sheepskin and called Ugg boots.
Vanderbilt centre AJ Ogilvy scores against Austin Peay in a college basketball game in Nashville.
Photo: Mark Humphrey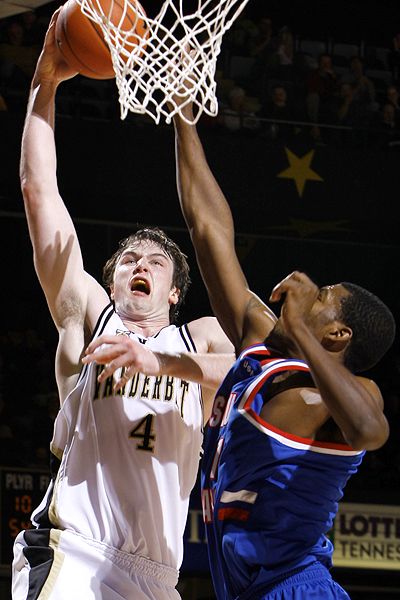 Vanderbilt University
Such a shame he didn't stick with Australian Rules Football. He may have made a good ruck.
******************
What a day today. I even had a job interview in the afternoon.
Emily stayed home sick today, so she didn't come around tonight for dinner.