Oscar? Bah!
Someone should take a poll of everybody who actually watches the telecast of the awards to find out the percentage of people who do not even know who a more original Oscar is - Oscar Wilde.
*************
I had a great weekend visiting Michelle and Christopher in Melbourne, staying with them, and catching up with the football.
On Friday afternoon, Christopher and I went to the NAB Challenge game between my team, Brisbane Lions versus North Melbourne, at Optus Oval/Princes Park, which is now called MC Labour Park. I caught up with another supporter there at the game. I didn't really focus on the game, instead trying to test out my new camera. After the game, I caught up with a few players I know.
On Saturday morning, I went to a family day for the Brisbane Lions team and supporters, meeting up with two other supporters. It was great catching up with the players I know and meeting other new players for the first time.
one of the new players I met, Brad Dalziell (Razzle Dazzle)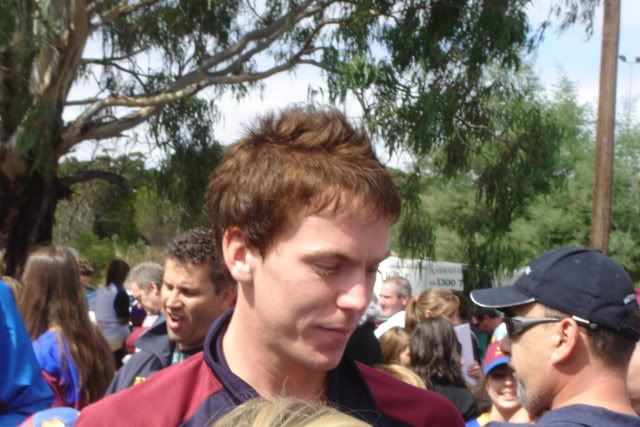 Afterwards, I went for a bit of shopping in the city and was beside myself when I discovered DVD movies of
Tintin and the Blue Oranges
, and
Tintin and the Mystery of the Golden Fleece
.
On Sunday, Michelle, Christopher and I went to the
Moonee Valley Festival
. Of course,
Essendon Football Club
also held their family day there as part of the festival. The festival was quite big and a lot of fun. I must have patted about six or seven dogs. The football club event was far too big to talk to any players - I've only met a few once and aren't on friendly terms with them. Still, the festival was good fun - a vet stall gave me a free dog ball and thrower.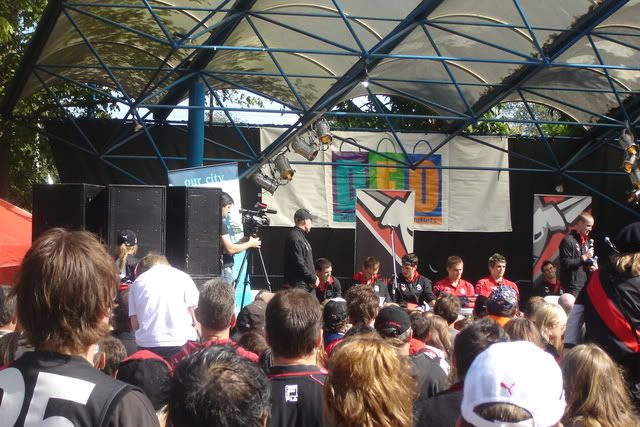 I returned today, with more football merchandise from both clubs and the DVDs as well as other bargains.