A bizarre story from
Reuters
Toilet-shaped house offers relief to the WC-needy
Tue Oct 9, 2007 8:16am EDT

SEOUL (Reuters Life!) - South Korean sanitation activists will mark the launch of a global toilet association by lifting the lid on a lavatory-shaped home south of Seoul.

The steel, white concrete and glass house, with a symbolic opening in the roof, will be ready to receive visitors next month, said the World Toilet Association in a statement.

"Among its many amenities, the house features four deluxe toilets," said the group, started in South Korea and dedicated to providing clean sanitation to the more than 2 billion people who live without toilets.

The home has a showcase bathroom located in its centre. Other toilets have features that range from elegant fittings to the latest in water conservation devices.

The toilet house was built by Sim Jae-duck, chairman of the organizing committee of the Inaugural General Assembly of the World Toilet Association to mark the association's first general assembly in November.

The house is named Haewoojae, which signifies in Korean "a place of sanctuary where one can solve one's worries".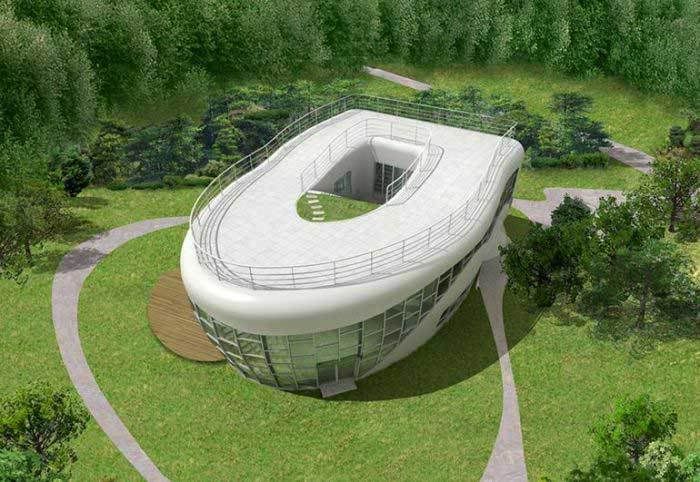 According to The World Toilet Association
The WTA is an international organization for the promotion of sustainable toilet and water management with a world wide operation. Although it will be formally launched at the Inaugural General Assembly coming November 21-25 in Seoul, Korea, it has been involved in building alliances across the globe. Our main objective is to build and improve sanitation conditions on a sustainable basis; advocating and raising awareness on sanitation issues worldwide.
The WTA seems to be a South Korean non-government organisation.
Nobody told them about Singapore's
World Toilet Organization
, whose objectives are
Until 2013,
WTO has consolidated its recognition as world body to address sanitation issues by intensifying its network in South East Asia, Africa and South America
WTO continuously has generated awareness on the necessity for clean toilets and environmentally sound sanitation systems by annually organizing the World Toilet Summit, Expo & Forum, sanitation related events and innovative media work
By continuously updating its web site and newsletter, WTO has empowered its member community to promote and implement creative toilet and sanitation solutions - at least one model in each member organization
WTO has strengthened the outreach of World Toilet College by creating up to 6 Regional Training Units in South East Asia, Africa and South America
WTO through training and construction of toilet systems has benefited up to 3.2 million women, men and children
Two rival 'global' organisations? Both based in Asia. One of them will have to be flushed!
*********************
Oh, I have been so lazy today!