I love noodles and one of my favourites is the Malaysian Char Kway Teow. I've never tried to make it, but the recipe from SBS
Food Safari
looks great. Recipe by chef Jess Ong.
It is very important to have all the ingredients ready and chopped before you start. The pan must be very hot as this dish is cooked very quickly over a high heat. A good tip is to heat the noodles first (if they are cold from the fridge) – easily done in the microwave and only cook enough for one person at a time to avoid the ingredients 'stewing' in the pan. - Jess Ong

INGREDIENTS

1 tbsp oil
½ Lup Cheong sausage, sliced
4 fish balls, sliced
2 shallots, sliced
2 cloves garlic, chopped
1½ handfuls of fresh rice noodles (allow approximately 300 to 400g per person)
1 tsp dark soy sauce
1 tsp light soy sauce
6 green prawns, peeled
1 egg, beaten
Handful bean sprouts
1 tbsp chopped garlic chives

DIRECTIONS

1. Add oil to hot pan or wok. Fry sausage, fish balls, shallots and garlic for a few minutes.
2. Add warm rice noodles (especially if cold from the fridge) and this is easily done in the microwave. Stir and then add soy sauces. Make space at the side of the pan and cook the prawns.
3. Add egg and cook until nearly set at side of pan, gently fold into noodles.
4. Add bean sprouts and garlic chives. Serve immediately.
I also love sago pudding, but had never found a recipe for it, until now. Also from SBS
Food Safari
.
Sago Gula Melaka (Sago Pudding)


Susanne Goh

INGREDIENTS

300g sago
1 egg white
200g palm sugar, chopped
½ cup water
4 tbsp white sugar
1 can coconut milk

DIRECTIONS

1. Bring a large pan of water to the boil and when boiling, add sago. Stir frequently as the water returns to the boil, to avoid them sticking. The sago will float to the surface and be transparent when cooked. Strain and rinse with cold water a couple of times to remove the starch.
2. In a clean bowl beat the egg white until soft peaks form. Add sago, stir to combine and pour into a jelly mould. Chill until set, about 1 hour.
3. Stir palm sugar and water over medium heat until sugar has dissolved. Stir in white sugar. Stir until completely dissolved and then strain through a fine sieve into a ring jelly mould and refrigerate for approximately 1 hour.
4. Turn sago out onto a serving plate, Cut into wedges and serve topped with a little of the coconut milk and syrup.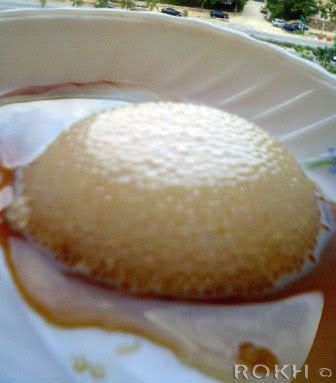 South east Asian cuisines are amongst the world's best.
****************
My main work output today was finalising a draft media release. We had a work lunch to farewell the head of our section who is leaving before Easter to undertake a PhD. It was at a new Balinese restaurant. Indonesian food is so underrated. Gado Gado is a fantastic salad.
I am so looking forward to the weekend.